About us
who we are
Why we are so passionate about helping to navigate your journey to parenthood.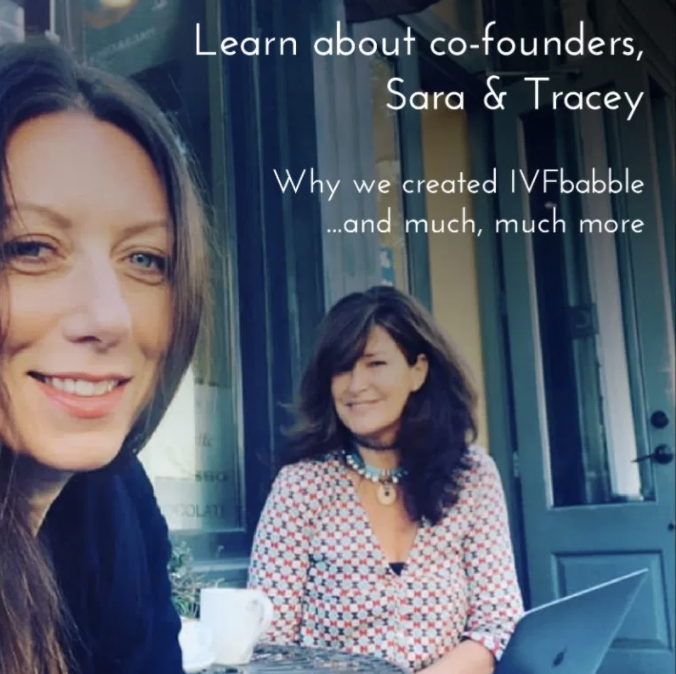 Our
stories & passion to help all those TTC
Co-founders Sara Marshall-Page and Tracey Bambrough on their own journeys .
Hello, we are Tracey Bambrough and Sara Marshall-Page – good friends, mothers of twin IVF daughters and the founders of fertilitybook and IVFbabble.com 
Following our own long, complicated and emotional fertility journeys, full to the brim of misdiagnosis and misunderstanding, we knew we needed to do something to help others facing the daunting rollercoaster ride of fertility treatment. So, we got together one afternoon and started planning…..
Our own hindsight allowed us to see that we needed to create something that did not exist – a resource where men and women across the world could come and learn more about their fertility, and their options. We wanted to create a space that didn't look scary, alien or medical, but clear, fresh, and "normal", packed full of trusted information from top fertility experts that would help men and women navigate their way through their treatment.
We also knew we wanted to break the stigmas of shame attached to fertility, by starting conversations and sharing real stories, so that people could see that they aren't alone.
Our mission is to help navigate your journey to parenthood and to help break the silence on fertility issues across the globe
We felt passionate to create something we wish we'd had…
So we did….
And in November 2016, IVFbabble.com was launched. It is now read in 195 countries and has had over 4 million visitors.
We also felt passionate about creating an online resource that would give all those TTC direct access to fertility clinics and services around the world too. We are excited to bring you fertilitybook.
We want to make fertilitybook and IVFbabble.com the best they can be for you and love to hear your comments and thoughts.
Remember, we are all here for you and just ask for any help at any point.
With love
Tracey and Sara xx
Happy customers every year
Our tips and advice
Our passion
Co founders of Fertilitybook share their top tips .
1
Diagnosis is key
If you are taking time to conceive there may be a reason why. It's so important to ensure you have the necessary tests for a diagnosis.
2
Find the clinic that's right for you
Here at fertilitybook we want to be able to save you time and money by giving you the options and access to clinics and fertility services that are right for you.
3
Move ahead with your fertility plan
Just taking those initial steps to give you clarity on your fertility options, finding the right clinic for you and wellness guidance on how to help boost your fertility can be such a help. 
Created for the TTC commuity
Fertilitybook has been created to ease the process
We are here for you to help you navigate your journey
What readers say
Clients Reviews
Readers share their reviews on fertilitybook and IVFbabble.com.
"As an avid follower of IVFbabble.com I offered to test this out. What a fantastic resource. To be able to 'see' fertility clinics and agencies at a glance in the location you're looking at. For us we have been considering fertility treatment overseas and this is just perfect to find what's out there with great informative articles and checklists too. Thank you IVFbabble team!"
Amanda Brierley
TTC warrior
"Struggling as we have been and confused by the amount of things we need to find out about, which clinics, emotional and financial help, there has been no one place that we could find all of this in! Then fertilitybook popped up! I love what IVFbabble are doing. Not only is IVFbabble a great help to us, fertilitybook is great to be able to browse fertility clinics in Europe and further to know what our options are. Well done and thank you."
Linda Pilaski
"As a bloke on a fertility journey, you feel a bit 'left out'. Having fertilitybook at least allows me the ability to be able to help in trying to source good potential options for us once Covid situ settles. It gives us time to find whats available in the areas we're considering. I know this is a new resource but I'm liking it and will be recommending it. Thanks guys."
Frank Chard
"Love this. fertilitybook is fantastic and has saved us time and money by reducing hours trawling the internet."
Natalie
Single woman TTC
How we can help
fertilitybook can save you time and money, giving you direct access to clinics and services around the world.
The Fertility Talks
Leading experts from around the world answer your questions on fertility helping you to navigate your journey to parenthood
Access to experts
If you have any queries or concerns, why not get in touch with our leading experts who are here to support you
We can help with your search
If you are struggling with your search and would like fertiilitybook team to help guide you, just click on help with search and we will find the best option based on your needs